Pet owners know that furry friends are a source of endless joy, laughter, and unconditional love. That is why senior pet parents may balk at the idea of moving into a senior living community—after all, won't they have to leave their furry companions behind?
Not necessarily.
Plenty of retirement communities—including Monarch Communities®—offer pet-friendly living arrangements, so new residents can bring their own pets with them
Benefits of Pets for Older Adults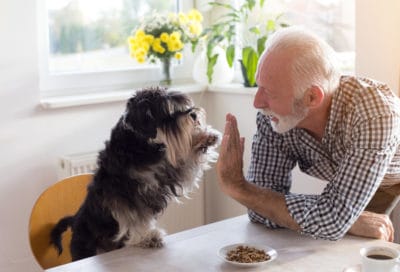 Don't just take our word for it. Research shows that older adults' quality of life can significantly improve with the presence of furry companions, either in the form of pet ownership or animal-assisted therapy/pet therapy programs.
Physical Benefits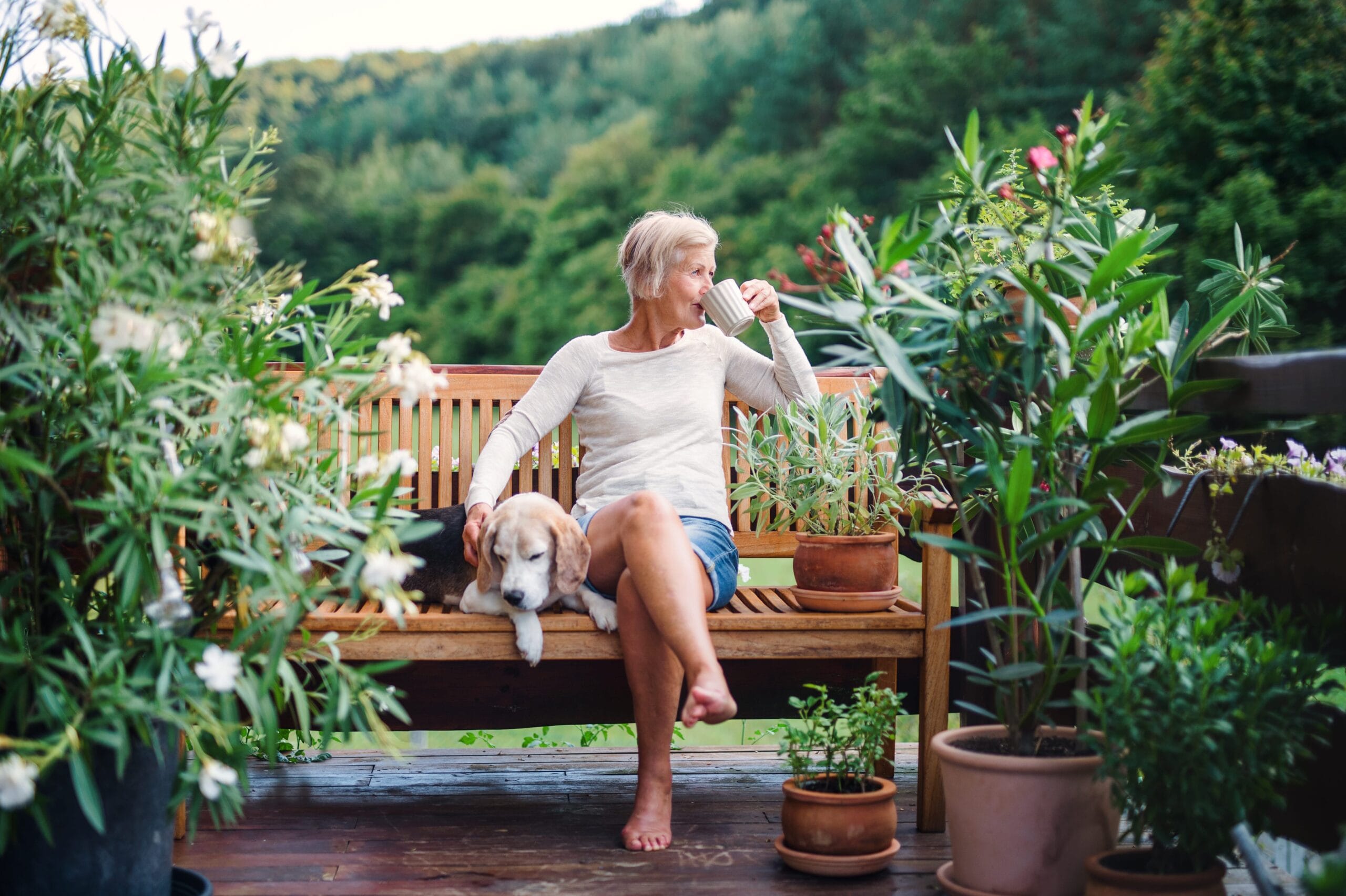 Pet ownership isn't just rewarding emotionally. It can also provide tangible physical benefits.
Some studies suggest that older pet owners have lower risk of high blood pressure and high cholesterol compared to people who do not own pets.
Dog owners, specifically, reap the physical and emotional benefits associated with daily walks.
People living with Alzheimer's disease may develop better eating habits when they have viewing access to aquariums, according to one Purdue study .
Mental Health Benefits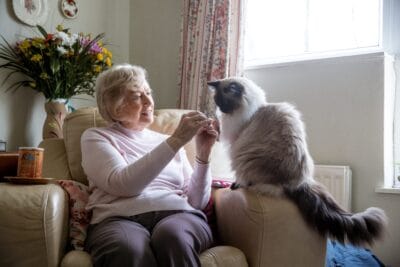 Non-human animals don't just boost the body. They boost the mind, too.
Caring for animal companions helps anyone have a sense of purpose, which becomes increasingly more important to have with age and/or moving into an assisted living community.
Having a familiar animal companion around can make the move into a new senior housing community much less stressful than it would be otherwise.
One literature review states that people with dementia may benefit from interacting with animals. Specifically, pet therapy can increase their social behaviors while reducing aggressive tendencies oftentimes seen with this condition.
Another literature review states that listening to natural sounds, like birds singing in an aviary or recorded birdsong, can reduce the severity and frequency of dementia-related aggression. near you today.
Pet-Friendly Monarch Communities®
We offer pet-friendly senior living communities. Your loved one can take along a beloved pet at the following locations and care levels:
Pet-friendly independent living options:

All Monarch Communities® at all levels of care.*

Pet-friendly assisted living options:

All Monarch Communities® at all levels of care.*

Pet-friendly memory care options:

All Monarch Communities® at all levels of care.*
*Provided the residents and pets meet the guidelines below.
Discover one of our pet-friendly senior communities
Our Pet Policies
If your loved one wants to bring a pet into one of our communities, you will have to meet rules and standards that include:
Must provide documentation of up-to-date vaccinations.
Pets must be spayed/neutered.
Weight limit: 25 pounds at full maturity; only small dog breeds allowed at this time.
Number of pets limited to one (1) per senior resident.
Residents must assume total care of the pet; when residents cannot fulfill pet care duties, the Executive Director will help find the animal a new home.
The pet must be used to social interactions with other humans and animals.
Additional pet fees will be added to the resident's expenses, unless the animal has ADA certification (this does not include emotional support animals).
Our non-negotiable pet policies are in place to ensure the well-being of residents, staff, visiting family members, and other pets. Thank you for your understanding.
Let's Get in Touch
Contact us to learn more
about our pet policies and pricing today!