If your loved one is considering making the move to a senior living community, make sure they move to a place where they will receive the best level of care to meet their needs. And if you're not sure where to start, you've come to the right place!
At Monarch, our vision and culture embody the residents we serve in both independent living AND assisted living. Therefore, we know a thing or two about the differences between each of these popular options.
Why are they so popular? Because they offer residents a great deal of freedom compared to memory care or skilled nursing care facilities (nursing homes). While we're aware that many older adults want to remain in their houses for as long as possible, those of us at Monarch believe that life doesn't stop when moving into assisted living or independent living; rather we see our residents as simply embarking on a new and exciting stage within the beautiful mosaic of human life.
While there is some overlap between these two types of senior living communities, they are not the same. Let's break it down to see which one might be the best fit for your aging family member., including:
Independent Living Communities
Oftentimes known as retirement communities or senior apartments, these senior communities are simply locations that offer housing for just older adults. Independent living residents do not have extensive care needs, which means they can handle tasks like medication management and scheduling appointments on their own.
The appeal of independent living is two-fold: freedom from chores and communal living. Specifically, independent living facilities may not offer skilled nursing care services, but they do offer appealing services like housekeeping and laundry services, exercise classes, planned outings, and the like. They also allow older adults to live in a community full of other people in the same stage of life as they are. This senior living arrangement is incredibly beneficial to seniors, as older people who live alone are at heightened risk of mental health issues like depression and anxiety.
At Monarch Communities®, we believe that every day is a new day to live life fully. That is why we offer a wide range of appealing amenities for our independent senior living residents
Beauty salons and spas,
Cafés and pubs,
Al fresco dining,
Rooftop decks and gardens,
Greenhouse gardening,
And much more!
INDEPENDENT LIVING AT A GLANCE
Price: $1,500 - $5,400 (national average monthly cost)
Does Medicare pay for it: No
Does Medicaid pay for it: No
Services: Housekeeping and maintenance services, arranging social activities
For: Active older adults to see EVERYTHING that you get with our pricing options
Paying for Independent Living
Unlike many other kinds of senior living options, Medicaid will typically not help pay for independent living arrangements. Instead, most people pay for these communities out of pocket or using long-term care insurance.
We at Monarch Communities® work hard to keep independent living expenses fair and affordable. Learn more about our individual communities know that they will never want for something to do or someone to talk to. It's all thanks to our top-notch amenities, which include:.
Assisted Living Communities
Assisted living facilities are for older adults who have some personal care needs that require the help of caregivers to meet. Oftentimes, assisted living residents need some help with activities of daily living (ADLs), which are daily activities someone needs to complete, like medication management, toileting, showering, and dressing. In short, staff members at assisted living communities assist residents with ADLs, but otherwise residents are able to live each day fairly independently.
These communities enrich residents' lives by offering regular social activities, supervised outings, wellness classes, common areas, and other enrichment activities. This setup helps keep older adults active and engaged, which can boost their physical, mental, and emotional health in ways that wouldn't be possible if they received in-home care while living alone.
The assisted living residents at Monarch
Book clubs,
Barber shops and spas,
Outdoor walkways and gardens,
Club rooms and community activity centers,
Rooftop decks and gardens,
Butterfly gardens,
And more!
Paying for Assisted Living
Medicaid may help cover the cost of assisted living communities, although it is important to note that not all senior living communities accept Medicaid. Beyond Medicaid, some states offer Assisted Living Waivers that may help offset the costs of this type of care.
You can learn more about financial assistance and ways to pay for assisted living by reading our page on Financial Planning for Senior Living)
ASSISTED LIVING AT A GLANCE
Price: $4,500 (national median monthly cost
Does Medicare pay for it: No
Does Medicaid pay for it: Sometimes
Services: Help with ADLs, housekeeping and maintenance services, arranging wellness and social activities
For: Seniors who need help with ADLs This is in addition to respite services for family caregivers who need a brief respite from caregiving duties. Rest assured that our short-term respite care residents are treated just as warmly as our full-time residents. No matter how long your stay is with us, know that we consider you to be fully part of our community.
What is the Difference Between Assisted Living and Independent Living?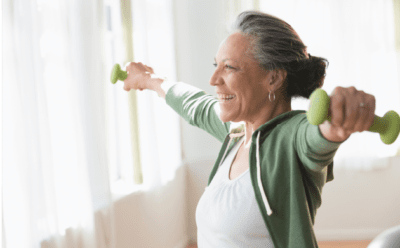 Independent and assisted living are both types of senior housing that allow far greater freedom to residents than other types of senior living communities, such as skilled nursing facilities or memory care facilities. This freedom is possible because residents of assisted and independent living communities do not need around-the-clock medical care or monitoring.
These two communities differ, though, in just how much assistance they offer residents. Independent living residents are largely autonomous; they need no daily assistance. They choose to live in a communal setting for the emotional benefits and to leave mundane chores behind. By contrast, assisted living residents do need a little assistance during the day. They may require caregivers to help them get dressed or prepare meals, although they do not need the extensive level of care that someone living in a nursing home might.
Assisted and Independent Living, the Monarch Way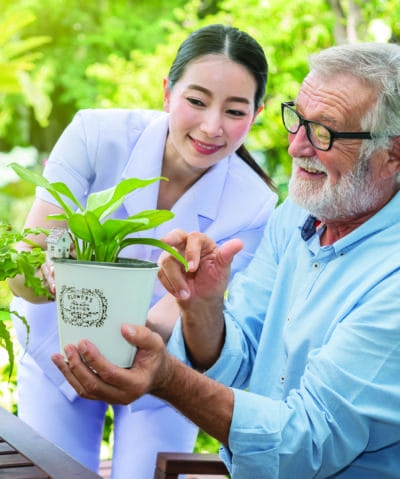 Family members can get peace of mind that their loved ones will always receive the right level of care — spiritually, emotionally, mentally, and physically — at Monarch Communities®. The Monarch Metamorphosis encourages staff to see residents from a lens that is telling of their larger story. Put simply, our independent and assisted living team members look at the entirety of an individual and their past experiences, versus just this stage in their life.
After all, recognizing their total being while still creating new opportunities for them to enjoy every day in a dignified manner will create a better quality of life—whether it's in independent living or a higher level of care like assisted living.
But our network of communities doesn't just offer these two options! We want to help every senior find a place to call home, which is why we also have a variety of memory care options
Come visit us and see how we are changing the way seniors and their families think about senior living.