If you or someone you know is experiencing a mental health crisis in the United States, call 988 to contact the Suicide and Crisis Helpline. It is FREE and available 24/7 in English and Spanish. You can also visit their website and chat with someone online For people outside the United States experiencing a mental or behavioral health crisis, please go here to find suicide crisis lines (listed by country).
The aging process can be complicated and, at times, frustrating. But while aging can bring about many changes, conditions like depression and anxiety are NOT normal parts of healthy aging, which means targeted treatment is necessary to improve the struggling individual's well-being.
Keep reading to learn more about the potential causes and triggers of geriatric mental disorders... and how to connect yourself or your loved one with senior mental health services to improve everyone's quality of life.
Seek Help Today
It's important to remember that there is absolutely no shame in getting help for mental illnesses; it is the same as getting help for physical illnesses like diabetes or heart disease. We encourage people living with mental illnesses (or concerned about a struggling loved one) to talk to your health insurance provider or primary care physician to see if they can refer you to a mental health care provider in your area.
You can also explore the following resources below to learn more about ways to find affordable resources in your area.
Mental Health Resources for Older Adults
Good mental health is possible, especially when you know where to go for help. The following resources can help older people and their loved ones learn more about the mental and emotional needs of aging adults and where to find affordable mental health professionals in their area.
Mental Health Resources for Family Members and Caregivers
Older people aren't the only ones in a family who can have mental health concerns at one time; their loved ones can too, especially if they have taken on the role of an unpaid family caregiver. The following resources can help family members/caregivers of an aging adult learn more about how to better care for their loved ones and their own mental well-being as well.
Mental Health Issues Facing Seniors
The mental health of older adults is just as complex and nuanced as that of any other age group. Knowing more about the specific types of mental health issues seniors experience—and what causes them—can help older adults and their loved ones find more effective treatment in a timely manner.
Causes
Knowing the causes and triggers of these concerns can guide treatment. Common contributing factors to mental health problems in aging adults include the following:
Common Geriatric Mental Illnesses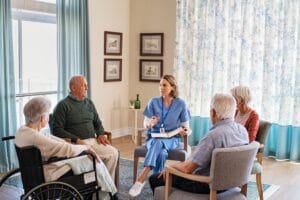 Common mental and behavioral health conditions among the elderly
Living with a mental or behavioral health disorder can be difficult. With proper treatment, however, it is possible to see an improvement in symptoms and to enjoy life again.