Social media is no longer the sole domain of Gen Z and Millennials. Everyone—even older adults—are using social media. According to Pew Research Center, 73% of US adults between 50 and 64 and 45% over 65 use at least one social media site. So, no matter which way you look at it, social media has made its way into the modern senior lifestyle. Here's what that means for the modern senior—and how we use social media to enhance the overall senior living experience at Monarch Communities®.
Seniors and Social Media: #BFFs?
It's no surprise that social media usage among older adults has increased in recent years. At a time when physical outings became risky due to the COVID-19 pandemic, social media gave older adults who sheltered in place something special: the chance to safely connect with loved ones.
Although, the pandemic alone isn't the sole reason older US adults are turning to social media. According to one study, older adults reported using the social media platforms Facebook and Instagram to fill gaps in face-to-face social interactions in their daily lives before the pandemic hit. All in all, what research tells us is this: older adults are turning to social media in greater numbers than ever before to fulfill that very human need for social interaction.
In Person at Monarch Communities®
Connections are at the heart of what we do and who we are at Monarch Communities, both connections to place and connections to others. That is why we cultivate an environment and culture that facilitates easy interactions between residents, family members, and staff members. And we understand that while social media and online communication can't completely replace in-person interactions, they can provide positive social enrichment opportunities for our senior living communities.
We believe that technology, including social media, can elevate the overall quality of life for residents, their families, and staff members, when used correctly. That is why, at all levels of care, we use tech so that seniors can connect with others easier than ever before. Some of the ways we use technology to help our residents connect with others include:
Setting up Zoom meetings with family members and friends,
Staying active with the entire Monarch Community on social media,
Holding community movie nights,
Hosting virtual lectures,
And much more!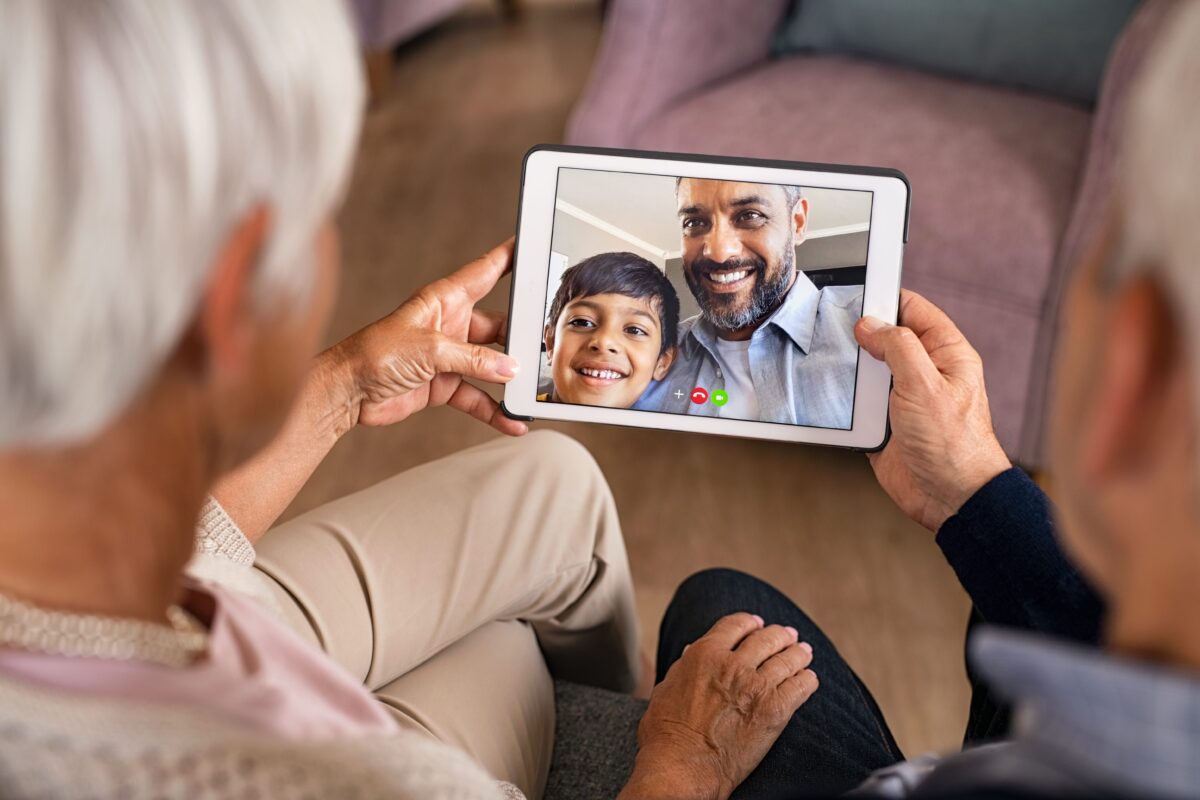 Of course, these methods only supplement the other ways we encourage connections at our communities, including:
Offering communal spaces, like libraries and dining rooms, for daily interactions between residents and team members,
Hosting regular group wellness and exercise classes,
Offering shared floor plans for residents who enjoy cohabitation,
Holding regular trivia and game nights,
Having birthday celebrations for our residents,
Offering music events,
And much more!
SOCIAL MEDIA USAGE AMONG OLDER ADULTS OVER THE YEARS
THEN (2006)
% of older adults who use at least one social media site (Ages 50-64)
3%
% of older adults who use at least one social media site (Ages 65+)
0%
NOW (2021)
% of older adults who use at least one social media site (Ages 65+)
73%
% of older adults who use at least one social media site (Ages 65+)
45%